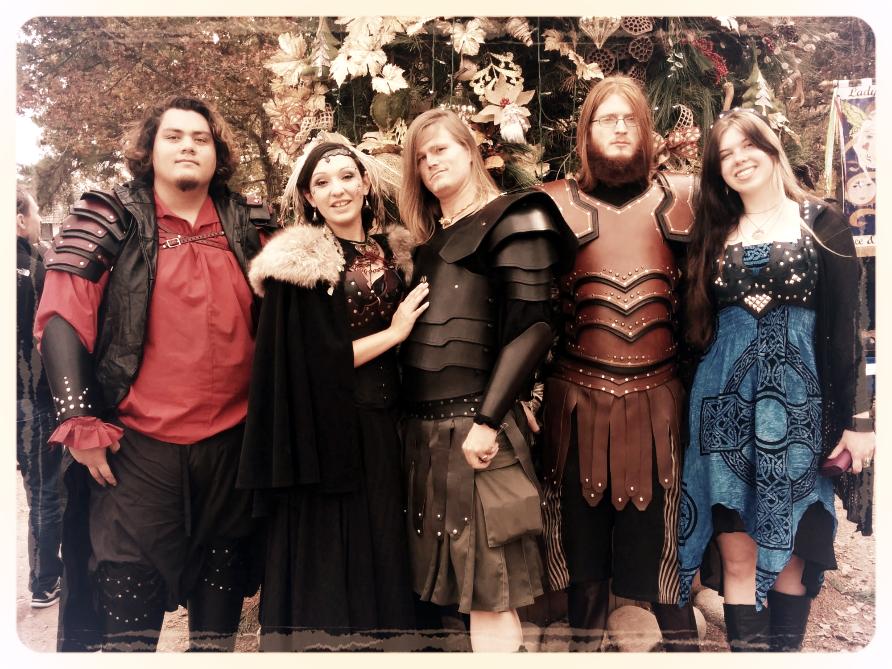 About Rose & Thorn Armory
We are leatherworkers who specialize in Combat-Ready Leather Armor. Our Armor is great for whatever activity you want, such as: LARPing, Steampunk, Cosplay, or Good Ole Fashioned Theatrical costuming. All our armor is combat ready. Unless otherwise stated, we use 13oz to 16oz leather for all of our armor. We also offer a range of services for Leather Maintenance and Repair.
Rose & Thorn Armory began making leather armor in Salt Lake City from the combined efforts of David and Meredith Entrikin. The company has expanded in a very short time to include a slew of friendly faces.
Rose & Thorn Armory is focused on making the highest quality functional leather armor that can possibly be made. That means making it combat ready whether it is intended to be worn for fighting or it just so happens that it is needed.
Rose & Thorn is also committed to meet all leather needs including costuming, and leather repair for whatever occasions might arrive, even the more ornate ones.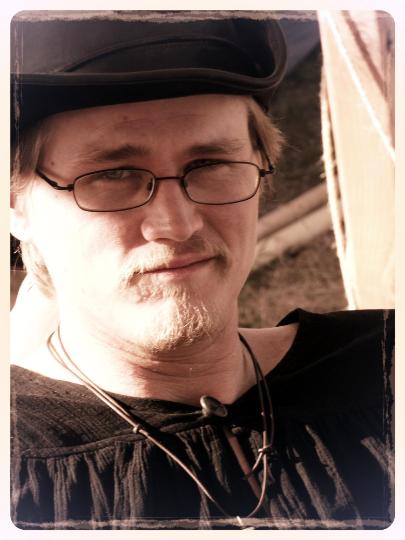 The Master A.K.A Lord Rose A.K.A David
Lord Rose comes from the small shire of Entrikenfoot, just outside of Edinburgh, Scotland. He is the third son of a lord, thus destined for the cloth. Rather than disavow women and all things good in life, he decided to become a sword for hire. Through his many travels he has picked up the skill of leather-crafting and decided to try his hand at mechantry, and thus he still roams far from his homeland.....
David Entrikin is the Rose of Rose & Thorn Armory. He focuses his attention on the details; beautifying and assembling the leather armor, He has also branched out into other art-forms, such as calligraphy and bookbinding. When he isn't crafting, he can often be seen practicing and teaching swordplay, or field testing the newest armor.
The Witch A.K.A Lady Thorn A.K.A Meredith
The Witch use to live in a small village off the Volga River, in a little hut on the edge of civilization. She learned to create brews and cast the evil eye from her grandmother. Lord Rose happened to come through her village as a sword for hire with a merchant train, and after she cast her spell on him he never left her sight again....
Meredith's home faire is the Texas Renaissance Festival, that is also where she got her start working with leather. She learned under a Master leather craftsman from England. With her strong basis of leatherworking she is able to create flexible and articulated leather-wear. TRF is also the faire where she met her husband.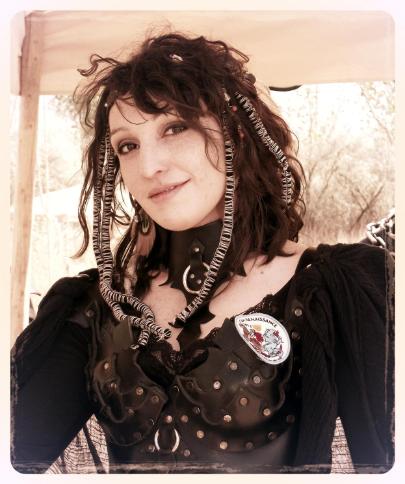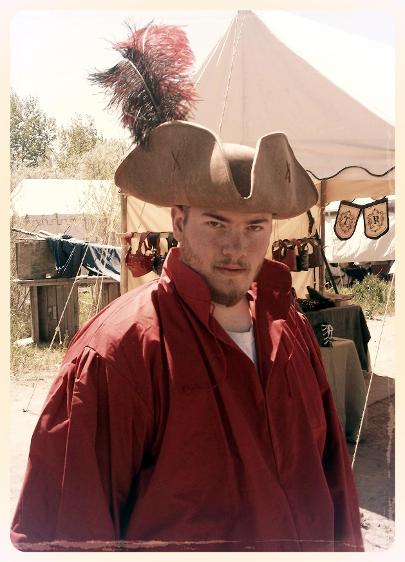 The Pantsless Pirate A.K.A Captain Alan Sloshbeard A.K.A Randall
This Half-Irish Northern Barbarian has origins not entirely known. He fell in with the Lord and Lady somewhere along the Volga river separated from the rest of his raiding party. They took him in and eventually he decided merchantry was a more long-lived profession than piracy. Even though the sea occasionally calls out to him, an evening drinking at the sea ports normally puts him back happily in the merchant tent knowing that the gallows are no longer looming over his head....
Randall been leather working for over a year, but his meticulous attention to detail keeps the leather wares looking great. He is also quite skilled in maintaining inventory and all those tedious details that leave most people pulling their hair out...including David and Meredith. As the senior apprentice he has the privilege of trying to take some of the work of Master David's Shoulders...Good Luck.
The English Whelp A.K.A Lighthammer A.K.A Dayan
Lord Rose spotted this young lad on one of his merchant travels to London. He was just a small boy then fighting the other street urchins for every last bit of food he could find. The Lord liked the spunk he had, so he enlisted him as an apprentice in his trade. Whenever the Lord doesn't have him busy on the anvil, he keeps him busy earning his lunch by fighting any who wishes to challenge him. He will say that his name comes for being light on his feet and hitting like a hammer, but if you ever see him set a rivet it becomes more apparent why the name has stuck....
Dayan is learning many of the skills that David has shown him. He has recently been working on his tooling skills, but his lightness with a hammer makes him the perfect fit for setting snaps and punching holes. He is also the main attraction of the fighting booth. He seems to have a weakness against all opponents that are under 4 feet tall. He can also be seen wearing the very first suit of armor built by Rose & Thorn.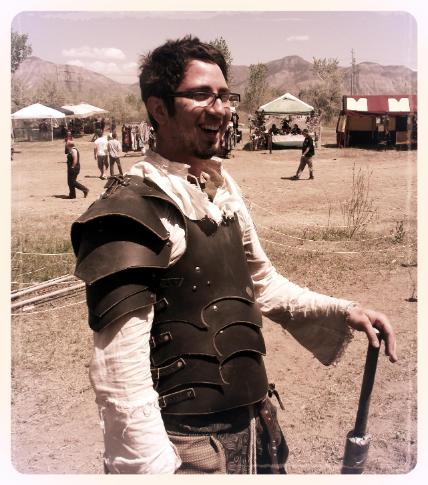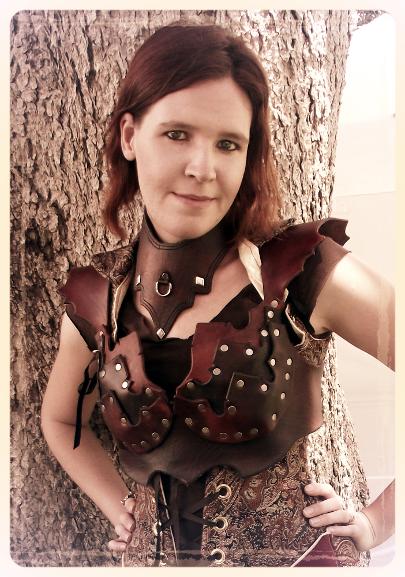 The Maiden A.K.A Lady Nya A.K.A Katrina
The Lord and Lady found this Maiden after she fell out of employment with one of the finest seamstresses in London. She kept using her skill to create outlandish outfits and accessories to realize her dreams of the faerie realms. She could be seen wandering the streets of London in her hand made faerie wings. The Witch was not put off by her eccentricities, and saw that she had the potential to help create all kinds of fantastic armor. She can still be seen gazing off into the woods trying to catch sight of the fae-folk...
Katrina has always been an artist and craft-person. After many years of knowing both David and Meredith, they enlisted her help with the Utah Renaissance Festival, and they have kept her on since. Her skill with leather is specialized in concept designs and dye technique. Any of the armor that has beautiful layering of color is all due to her envisioning.
The Whipping Boy A.K.A The Bard A.K.A. Ian
On a sea voyage, the Lord and Lady ran into this poor young soul as he was in the clutches of Old Coughy, who was a pirate with even fewer scruples than Pantsless. This always use to annoy Pantsless back in his pirating days, so he concocted a plan to rescue the boy from certain violation, and at the same time giving Old Coughy a final kick to his pantsed arse. The pirates were the first to call him The Whipping Boy, and the name stuck when the Lord threw him in the fighting ring to earn his fare share of dinner. Despite his tenacity to take a beating and still keep standing, he is really a poet at heart. When the hard labors of the day are over, he is often vying for the position as clan bard with Pantsless. What he doesn't have in volume, he makes up for with sincerity and juggling. The Lord and Lady aren't sure where he originally came from, but he seems to have a certain Antebellum charm that compels him to shake hands with almost everyone who walks into the shop....
David first met Ian at a sword fighting event. David proceeded to beat Ian to the ground...at Ian's request! When Ian decided he wanted to beak away from the mundane world, he jumped at the chance to begin an apprenticeship and travel to many far flung faires. David willing accepted him because he figured if he was willing to take that much of beating to learn sword-fighting, David could count on him to apply that much tenacity to his leather working.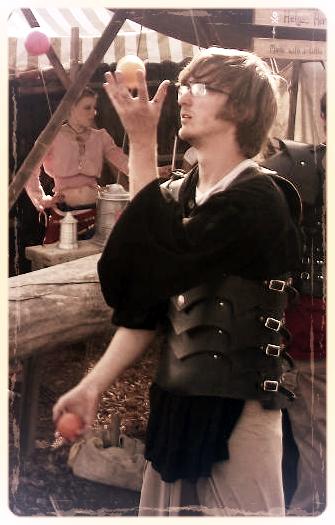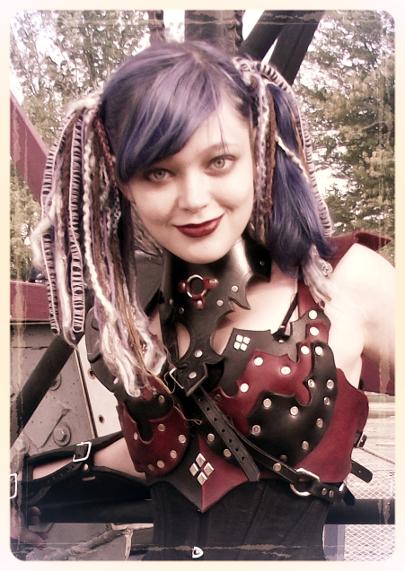 The Witchlet A.K.A The Waif A.K.A Heather
This young lady has the regalness of a noble, but the wild hair and attitude of one touched by the black arts. By the time the Lord and Lady found her, she was already trolling the streets of London trying to make a living after her noble family had been murdered. She desires revenge, so she is willing to dabble with any power that get her to her final goal. She practices embalming any of the dead animals she can find, so she will know what to do with corpses of those who have wronged her. She proudly displays her works of lifeless bird and rodents on her clothing as a warning to any who might get too close. The Witch liked her comfort with all things macabre, and invited her to join, although she knows some day she may go off again seeking the blood of those who betrayed her family...
Heather is Katrina's sister, and as any good big sister would do, she enlisted her little sister to come be a traveling merchant and abandon all traditional livelihoods. Heather has been a great saleswoman and a fantastic model for all the fun new colored women's bustiers that Katrina has created. While she might be a waif, she has enough moxie to keep cutting and pounding away at the leather even when it leaves her bruised and battered. Even though she is not battling Pantsless and Ian for position of Clan bard, she can still be heard singing whatever manically little song that comes into her head.
The Mud Queen A.K.A The Doctor A.K.A Serena
The Clan all knew that Lighthammer would grow up one day and find himself a lovely maiden to call his own, they just weren't expecting it to be a denizen of the low lying swamps, much less the master of such a foul place. But despite her surroundings of mud, a young beauty appeared with a flash in her eyes and a whip for a tongue, boldly ready to take on anything that the world threw at her, including bog stench and swarms of large grotesque mosquitoes. She joined the Clan with a desire to see more than her mud hole. Despite all her polish and good looks, she still shows off her roots by her display of foul language that will sneak out of her mouth at times….
Serena came to Rose and Thorn through Dayan, he just couldn't keep all the fun to himself. She was looking for travel and the clan was in need of another spunky female sales person. She is great at keeping morale high even when tent roofs are falling in and plague is in the air. She might get her spunk from her devotion to all things Avengers. When she isn't busy selling armor, she is off being the biggest bad-ass superhero in all of the greater Salt Lake area.